THE DOG WHO INSPIRED MY ART – by Sharon Krushel, founder of DonaBonaCards.com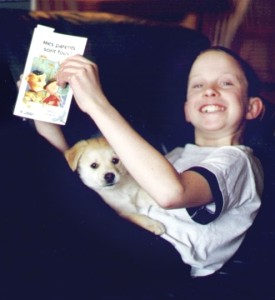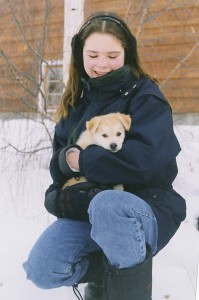 It all started in the hills – which were alive with the sound of music.
In 1996, I played the part of Maria in the Peace Players' production of "The Sound of Music". Little Gretl was played by Rae-anna Koenig, and she started taking voice lessons from me the following year. In January 1998, Rae-anna brought ten new-born puppies to her lesson. My children, Jessie and Denver, and I held and cuddled them, and were smitten with puppy love. We chose the runt of the litter; he was so small he could run under the bellies of his siblings. Denver wanted to call him "Ben", which is Italian for beloved. Our beloved puppy was a gift from a gifted girl.
We brought Ben to our home when he was only three weeks old because his mother, a Golden Retriever cross, had a calcium deficiency and couldn't feed her puppies. I held Ben whenever I could in those first few weeks. When I was at the piano teaching, he would be at my feet. Sometimes he would fall asleep with his head resting on my foot, even though my foot would be going up and down on the sustain pedal. He grew up to be the enthusiastic greeter of all of my students and our friends, especially the ones who would rub his belly.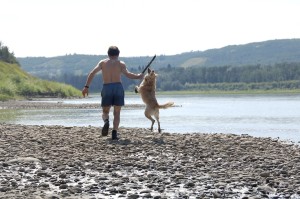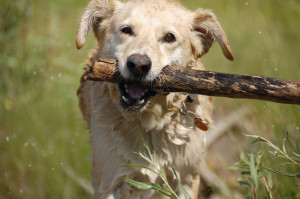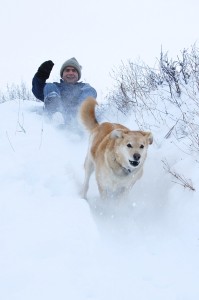 Ben loved hiking in the Peace River hills and would almost dance with anticipation when he sensed it was time for the walk. He especially loved playing with us in the snow. You couldn't explain to him that it was -40℃ or raining and muddy or just too miserable to go out. So we went…everyday. As our friend, Martin Eckhart, says, "There's no such thing as bad weather, only bad clothing."
For almost 15 years, Ben and our family explored the hills together. "The hills are alive…" indeed! Ben chased deer, moose, rabbits, moles, grouse… One time, when he was out with my husband, Terry, he even chased two bear cubs that were bigger than he was!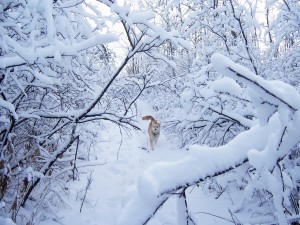 Sometimes I brought my camera on our hikes, and sometimes I wished I had.  Often I would see something at the topmost part of our hike (e.g., a wild little violet snowed under), and would hike back down to our house in the valley to get my camera and hike all the way back up. Those were bonus days for Ben! "We're going again?! All right!" He would wait patiently while I laid on my belly in the snow or set up my tripod taking pictures.
He wasn't always a perfect nature-photography partner. The first time we took him out on our annual spring crocus hunt, he was still just a pup. Jessie found the first crocus and we all gathered around to admire it. Someone said, "Ben, look! A crocus!" And he promptly ate it! I have more than a few inadvertent dog nose photos where there was supposed to be a wild flower, but it was all part of the fun.
If not for Ben, I would have stayed inside on cold, dreary or tired days and would not have gotten some of my most popular photos – Peace River -40℃, Roses After the Rain, The Enchanted Forest, the Fresh Bear Paw Print in the mud… Ben led me to my photographic philosophy that bad weather = good photo opp!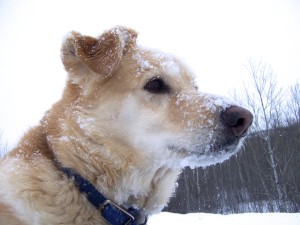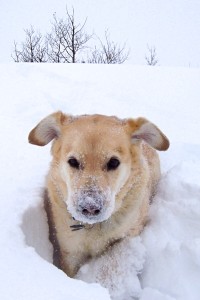 In early winter 2012, Ben and I went up to the "Little Christmas Tree" site, and I set a video camera on a tripod to do a practice run for a promo video for DonaBona.ca.
Shortly after making that video, Ben got sick, and we had to say good-bye to him. It was one of the saddest days of my life.
I wasn't always a happy hiking partner for Ben. During a particularly difficult part of my life, I would sometimes sit down at the top of a hill and cry, and he would come lick my tears away or just sit beside me. There's something about petting a dog that makes you feel better. He taught me to play and enjoy every day regardless of the conditions, and to keep going even if the snow is deep. I miss him terribly.
About a year after he died, I found the practice video we had made and realized it was the only video we have of Ben. I needed a promo video for a meeting with some card distributors in Ontario, and I decided to use the very candid Ben scene rather than getting a professional video made without him. The dog who inspired my art is now the star of the official promo video of DonaBona.ca. Hopefully, this way, he can continue to inspire people to get out and play in this beautiful creation we call home!